The Mating Grounds, which is operated by man-child Tucker Max and disgraced academic Geoffrey Miller, is now available as a podcast. You'll recall that The Mating Grounds is nothing but a Danger & Play copycat site. Indeed, Tucker Max closed comments to The Mating Grounds after his fragile ego could not tolerate being called out for his lack originality. (Maybe he'll re-open comments once his six-figure marketing firm hires a bunch of people in the Philippines to post their own comments and to upvote and downvote comments.)
I left my honest review of The Mating Grounds Podcast.
"Tucker hasn't added anything new to the conversation and is just repacking what other men have written about for years. Geoffrey Miller got into trouble for making fun of fat people, and had to apologize and lick the boots of feminists. Everything Miller writes has to be censored through the Chair of his academic department. The Mating Grounds Podcast is a cheap imitation of Danger & Play.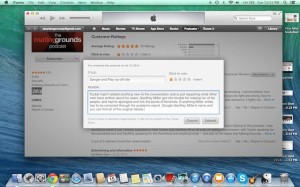 If you believe that the Mating Grounds Podcast provides limited value, then it would be helpful if you left your own honest review. You can do so by clicking here.
Read next: Advanced Marketing and SEO.