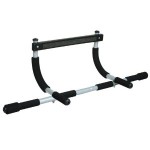 I just installed one of these in the doorway leading to my bathroom.
I'm going to do a set  of chin-ups before going to the bathroom. I'm not going to train to failure. I'm going to do Pavel's ladders.
(If don't know who Pavel is, here's an article and here's his book.)
Anyhow, I thought it'd be fun to have a 2013 chin-up challenge.
I'm not sure what the rules would be. Should we go by relative improvement? That is, would a guy who went from 1 rep to 5 beat a guy who went from 10 reps to 12?
How do we control for bodyweight? The little guys are going to beat the big guys.
But a contest of some sort sounds really fun. We could even all throw in $20 into a pool, winner take all.
Maybe have two categories:
Most improved;
Most absolute reps.
What do you think?
Either way, I'll be having my own personal 2013 chin-up challenge. If you want to play along, post a comment.
Note on comments: Spammers have been going ape shit in the comments, so your comment may be held in moderation and thus won't appear immediately.