It's not a question of if a man will lose your hair. The questions are: How soon and how bad will it be?
A man loses between 50 and 100 hairs every day of his life.  That's tens of thousands of hairs each and every year. That's if you're lucky.
If you suffer from male pattern baldness, you'll lose hair at an even quicker rate: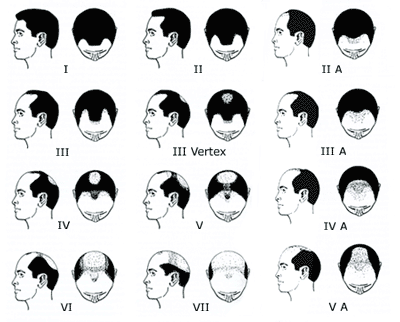 So let's spend some time talking about hair loss and the game.
First, if you suffer from male pattern baldness, start taking action immediately. Don't live in denial. You are losing your hair.
If you are unsure whether you are losing your hair, have a friend compare your hairline to that chart. Anything that is II or below means your body is waging a war of attrition against your hairline. You are losing.
Use Rogaine. Get a prescription for Propecia or Dutasteride – which is actually more effective than Propecia:
We report on a 47-year-old man who was initially treated with finasteride for androgenetic alopecia. Despite continuous treatment, after year 4 his hair density was not as good as at year 2, and low-dose dutasteride at 0.5 mg/week was added to the finasteride therapy. This resulted in a dramatic increase in his hair density, demonstrating that combined therapy with finasteride and dutasteride can improve hair density in patients already taking finasteride.
Propecia is really expensive. In my town, it's $190 for three months. It is possible to get Propecia from a research chemicals company. I'm not going to post any links. But if you search Google for "finasteride research lab," you will find a lot of sites discussing how to get a good deal on Propecia.
I know many men who swear by Propecia. It is legit. It works. Get some.
Propecia has sexual side effects in some men, so if your body responds poorly, weigh the costs and benefits. I have an unfilled prescription for Propecia. Luckily my hair is still pretty awesome. But my mane is not what it was in my early 20s. I'll need to fill my Rx eventually.
Second, if you're over 30, get a short hair cut. It seems counter-intuitive, but shorter hair looks better on an older player. I bring this picture into a salon: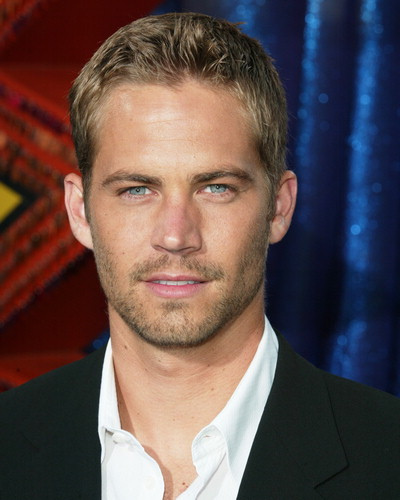 Third, if over 30, start seeing someone at a legit salon. A quality haircut is going to cost you. It's worth it.
Third, if you're going bald, shave that shit. And get a body. You must get a body.
In a non-homosexual way, look at the picture from right to left: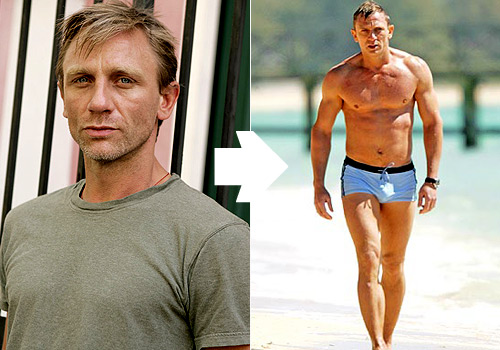 On the right, do you notice Daniel Craig's shitty hairstyle? I think not. (Again, no homo.)
On the left, look at his hairline. It is highly receded. He is a 40-year-old man, after all.
You can notice his hairline despite his $250 haircut and Photoshop magic. Yet you (and girls) won't notice his hairline at all in the picture on the right hand side.
If you are fat and bald, you are basically screwed. Do not be fat and bald.
If you are skinny and bald, you are not totally screwed. But life will be tougher. Do not be skinny and bald. Get some arms, shoulders, and pecs. Girls won't look at your hairline because they will be too busy looking at your arms.
Fourth, have hope. Hair loss is inevitable. If you take the right drugs, build a good body, and dress nicely, it won't harm your game too much.
One man put it best:
Young and in shape with hair: did well.
Young and in shape with less hair: did well.
Older and in shape with missing hair: did well.
Older and slightly out of shape with no hair: did badly.
Older and out of shape with no hair: fucking awful.
Older and in shape with no hair: doing well.
A fat body will cost you more lays than a bald head. You can't totally stop hair loss, but you can control how fat you get.
Take care of your skin, too. If you have less hair on your forehead, you'll call more attention to the fine lines and wrinkles on your face.